Payroll Products and Services
Here at PayPlus Software, Inc., we offer two core payroll softwares along with two online add-on products. By offering an assortment of solutions, we are confident that we have your solution available. Click on each of the products below to learn more.
POWERFUL ONLINE SOLUTIONS,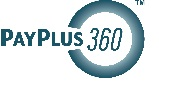 <!
<!
<!

<!
> <!
>
...AND THE CONFIDENCE WE HAVE YOUR SOLUTION.
In addition, PayPlus offers many services that can be customized to your company. These include, but are not limited to, customer reports and training. Click here for all our offerings and all the details.
You have been inactive too long. Logging out in :.