PayPlus360 by PayPlus Software, Inc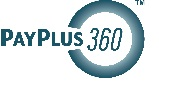 Retain. Sell. Improve.
In today's business environment, human resources play a vital role that includes streamlining the business process. PayPlus 360 combines human resource management with technology to simplify the delivery of information – giving you the competitive advantage to retain current clients, sell to new markets, and improve business efficiencies.
With the ability to access their data 24/7 from any location, your clients and their employees will have the information they need to know right at their fingertips. Clients with multiple locations will value the ability to instantly view labor distribution data for specific departments or across their entire company. PayPlus 360's employee self-service solution empowers employees to answer their own questions; freeing your staff from answering phone calls and searching for data. Clients and prospects alike in the construction, manufacturing, consulting, and property management industries will be wowed that you can deliver automatic detailed job cost reports that are essential to their business. Add on automated WH-347 reports for certified payroll, and your market potential expands to include companies with government contracts too!
For complete information on PayPlus 360, please visit our dedicated website - PayPlus 360.com.
You have been inactive too long. Logging out in :.